Abuja Airport Definite to Reopen on the 19 April 2017, MINISTER REASSURES
Minister of State for Aviation, Senator Hadi Sirika
Responding to speculation on the possible postponing of the reopening date of the Abuja airport which was closed on the 8 March 2017 for rehabilitation, the Minister of State for Aviation, Senator Hadi Sirika, in a recent interview aired by Arise TV was reassuring Nigerians and the international Aviation community that the April 19 date for the return of flight operations to the Nnamdi Azikiwe International Airport Abuja is fixed and achievable.
Taking questions from Charles Aniagolu of Arise TV in Abuja, Sirika highlighted that his team from the Ministry have set target milestones which are time based to ensure prompt completion and reopening of the airport on the fixed date. He also pointed out that contractors and workers handling the project are on a 24/7 action plan to deliver the project on time.
With the closure of Abuja airport, Kaduna airport has been selected as a viable alternative for the diversion of Abuja flights and the airport is currently experiencing increasing air traffic. Sirika also explained that the choice of Kaduna airport as an alternative to Abuja was made with safety considerations as the main factor. Access road to Kaduna from Abuja was immediately reconditioned, with enhanced security monitoring while the terminal building and all other facilities at Kaduna airport were updated to carry the expected traffic and passenger surge.
In a related earlier discussion between the Chairman of Nigerian Airport Business Summit Group, Mr. Fortune Idu and the Managing Director of The Federal Airports Authority of Nigeria Engr. Saleh Dunoma on the same subject at the ACI Africa Conference recently held in Zambia, Engr. Dunoma also indicated the strong possibility of the completion of the Abuja airport runway reconstruction project on time thereby meeting the deadline of 19 April 2017.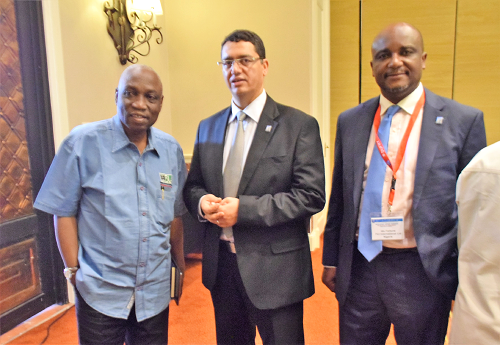 L-R: Engr. Saleh Dunoma, ACI Africa President, Ali Tounsi ACI Africa Secretary General, Fortune Idu, Chairman Airport Business Summit Group
The Managing Director of FAAN who is also the current President of ACI Africa seized the conference platform to praise the Federal Government of Nigeria for assenting to this very crucial and aviation safety need irrespective of the economic disruption the closure of the airport is going to cause. Engr. Saleh also emphasized at the ACI Conference that the Nigerian air transport sector is in dire need of an infrastructural update which presents business opportunities for investors and partners as the government is open to exploiting credible proposals on partnerships that will uplift the industry and give Nigeria a befitting air transport industry.
Engr. Dunoma also assured listeners at the conference that the new terminal buildings for the four international airports will soon be ready and up running giving Nigerians an increased capacity for passenger processing and facilitation.
At the ACI Africa conference this year FCI International the organizers of Airport Business Summit and the NIGAV award became a World Business Partner to ACI , making it the second private Nigerian Company on the list.